A Day At Redbeard
It's 10:30AM on a wintry Saturday morning in DUMBO outside Redbeard Bikes.
Herschel rolls up on a Brompton folding bike — British racing green with a dark brown leather Brooks saddle — dismounts, fiddles with the lock, and up goes the gate, just enough to allow him entry, just enough to say to the morning's first customers, "Almost."
The shop is hushed. The heater somehow sounds like medium pile carpet feels. The door chimes — Wilson ducks beneath the gate, wheeling his bike beside him, and parks it up front. It's a steel road bike the color of the borough's long-lost Dodgers. After a stint at the United Bicycle Institute in Portland, Wilson built the bike himself under the name Topaz Cycles in Carl "Snarl" Schlemowitz's upstate workshop. Now with a few builds under his belt, Wilson combines frame geometry research and experience racing on the Redbeard team out at the Kissena Velodrome in Queens to fine-tune future Topaz designs. He turns on music.
The front left wall of the shop is dedicated to Bromptons — 16 of them, in fact, tucked away in their prim cubbies in a one-of-a-kind 4×4 grid designed and built by the Redbeard crew. These British folding bikes are shop staples, the objects of countless inquisitive stares, and the source of as many conversations. 
In the middle of shop are hybrid "around-town" bikes, accessories, accoutrements, and Ilya's beloved foosball table. The right wall is floor-to-ceiling Gunnar, Mosaic, Parlee, Giant, Liv, Seven, and Specialized. Road, tri-, commuter, and gravel bikes. (The conditions for whether Redbeard will stock a bike are pretty simple: it has to meet Redbeard's incredibly high standards in terms of craftsmanship, and "it has to be a joy to ride." Simple criteria that are hard to meet.) These are the bikes that impel some to travel hundreds of miles just for a test ride and a chance to grill Ilya and Kasia, the husband-and-wife team behind the shop, on what makes bike X so special. They're always happy to comply; one gets the impression that, for them, talking about bikes is a close second to actually riding the things.
Nick Drake's "At the Chime of a City Clock" marks time to open the doors. It's 10:59AM.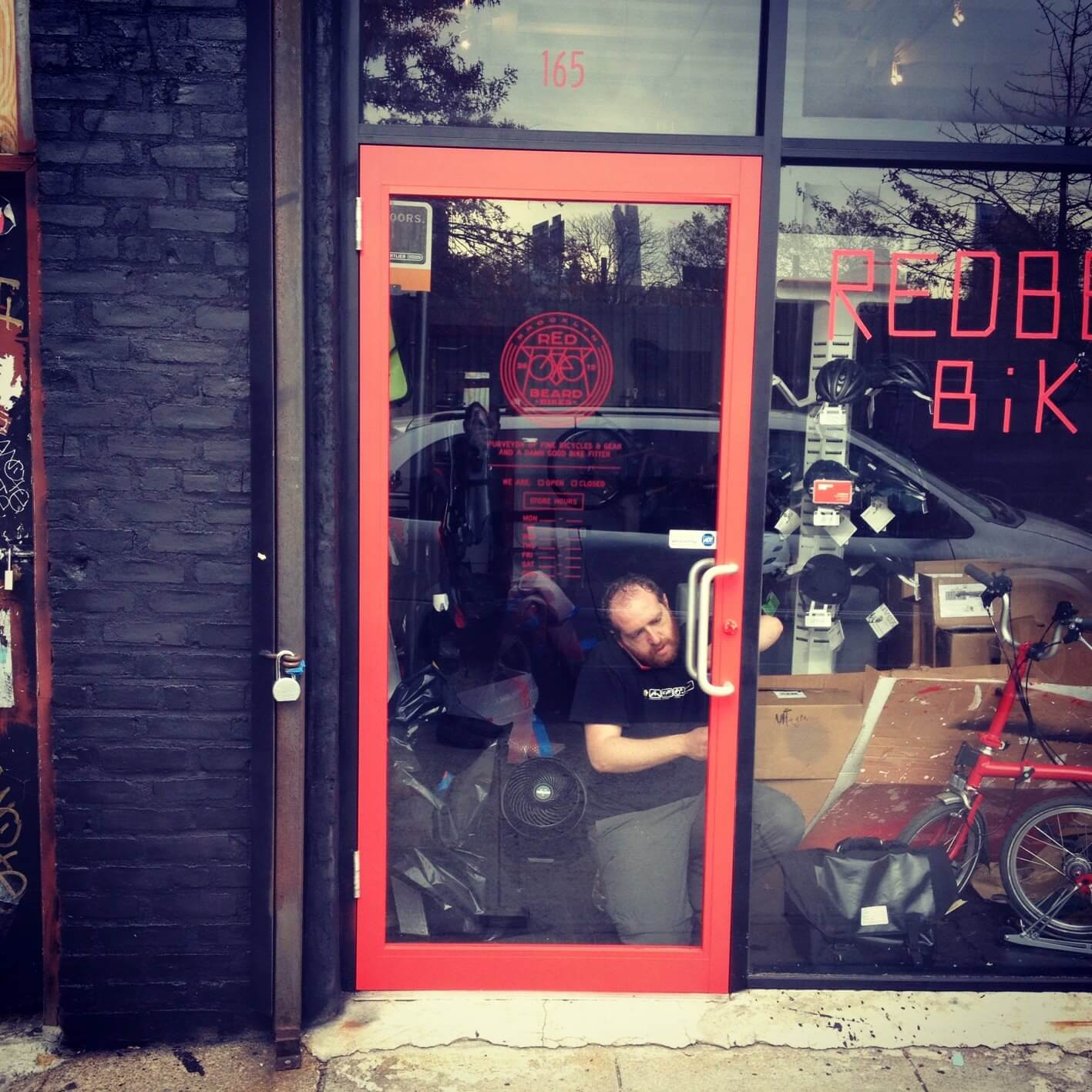 they're in the business of helping New Yorkers find out what kind of cyclist they are, and what kind of bike is right for them."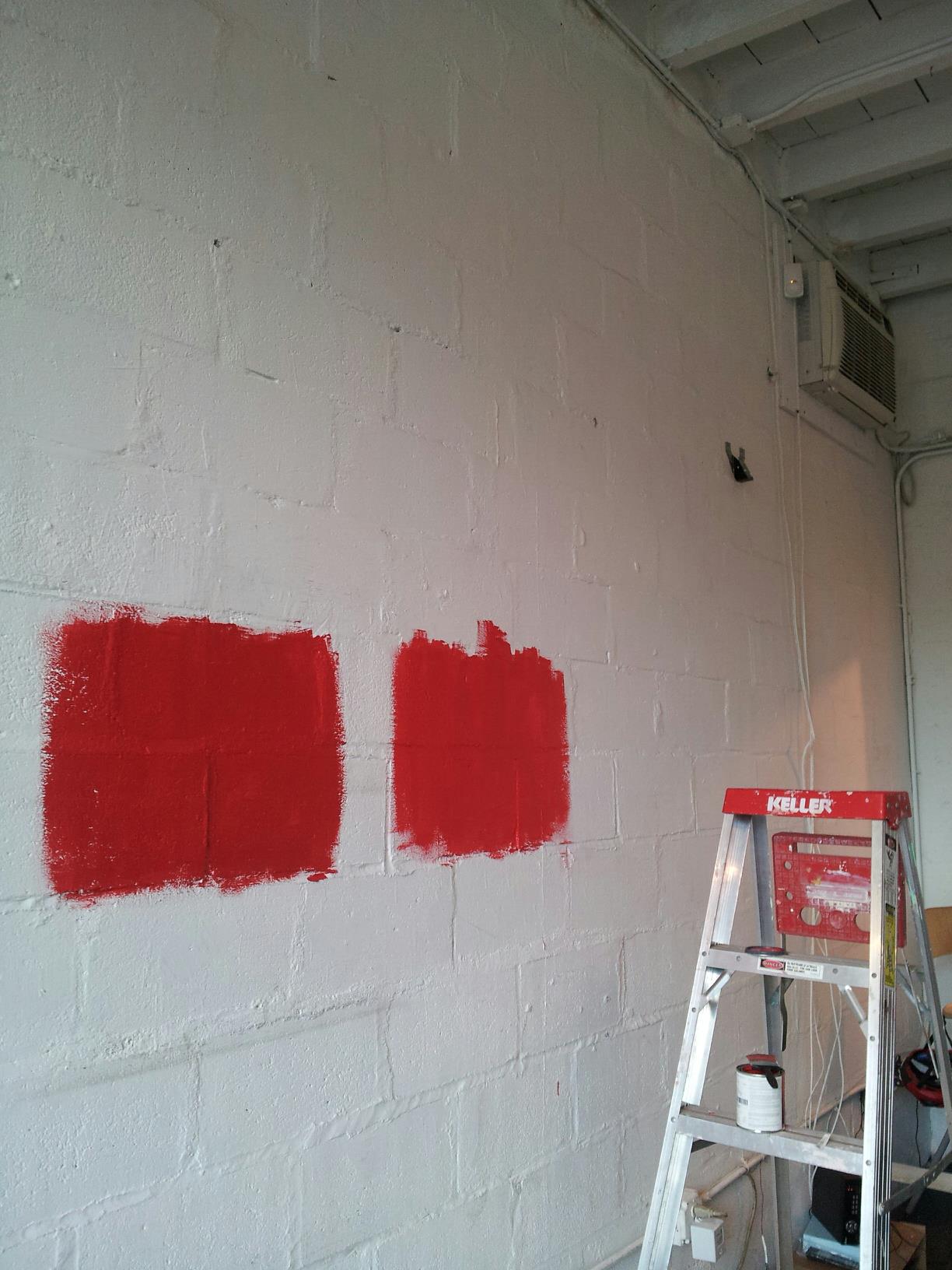 Business is slow right now, but that's to be expected. It is winter after all, and the city got its first big snow of the season last weekend. That does something to the cyclist's psyche. Nevertheless, the creak of beater bikes and the buzz of high-end cassettes are audible on the cobbled streets. Like the cyclists, the Redbeard crew yearns for spring — laps around the park, Sunday group rides up the Hudson on the River Road — but there's plenty to keep them busy in the meantime.
The bulk of the day comprises standard bike shop stuff (finicky derailleurs, lobsters or gloves?, Shimano vs. SRAM, myriad PSIs), but it's the relationships and conversations, which often stretch across days, weeks, months, or even years, that make Redbeard much more than your standard bike shop. Sure, they'll take the one-off customers who just happen to be passing by, in need of some chain lube, but they'd much rather get to know you, figure out what kind of cyclist you are (or want to be), and puzzle out what it is that'll suit you best — from color-coordinated cable end crimps to a dialed-in custom build, it's all the result of a relationship. It's what Ilya and Kasia have focused on since day one: November 7, 2012. (The shop was supposed to open in late October of that year, but Hurricane Sandy had other plans.)
"I couldn't get a job doing anything," Ilya explains. "I don't have a degree, or even a high school diploma. But I knew bikes and bike shops, and I knew that there was a better way of running a bike shop, and so one of the goals was to build a business that was profitable while also being good to its community and its employees.
"Part of our job as a bike shop is to grow that community," Kasia says. "When you buy a bike and you start riding, you become part of a community that you can then draw upon. You're not alone, in other words."
A young Australian couple comes in. She wanders around, mildly interested, looking. James, the guy, asks Herschel about groupsets.
James came in for the first time a year ago to see about gravel bikes. After peppering James with questions, Herschel steered him toward a Gunnar — steel bikes handmade in Wisconsin. Now he's ready to pull the trigger, so Herschel schedules him for a fitting with Ilya next week.
Bike fittings — and asking lots of questions — are at the core of what Redbeard does, and they're part of a regimen intended to strip away commonly held beliefs about bikes and biking (cheaper is better, pain is inevitable, etc.) and replace them with an informed understanding of the bicycle as a tool and oneself as a cyclist. In this sense, Redbeard sells much more than bikes—they're in the business of helping New Yorkers find out what kind of cyclist they are, and what kind of bike is right for them. Why? Ilya and Kasia love riding bikes.
"It's freedom," Kasia explains. "It's a pure fun. A pure suffering, when you're pushing yourself. Unlike the stress of daily life, it's a good thing. It's catharsis."
While Herschel gets James squared away, an Asian man in his 40s helps his 4-year-old son air up the tires on his bike (orange with training wheels). Kid's wearing a white Bern helmet with a rear/front combo light mounted on top. They help themselves to the pump and head back out into the blustery cold. Regulars. The little boy got his bike last year, and Ilya and Kasia see them out and about in the neighborhood all the time, even on frigid days like today. Kids are a big part of the mise-en-scène of the shop, and Kasia — an endlessly observant writer with a Dickensonian penchant for uncommonly placed commas as surprising as snowflakes on the Kaaba—keeps an ongoing record of their delighted and delightful turns of phrase. ("The bike shop makes my heart pink. And pink means exhausted." Miles, age 3.)
A bike shop can (should?) make kids of even the dourest adults. No matter how many exhausting laps she puts in after work, no matter how utilitarian the trip, no cyclist who learned to ride as a child ever fully forgets that the bicycle is, first and foremost, a way to play.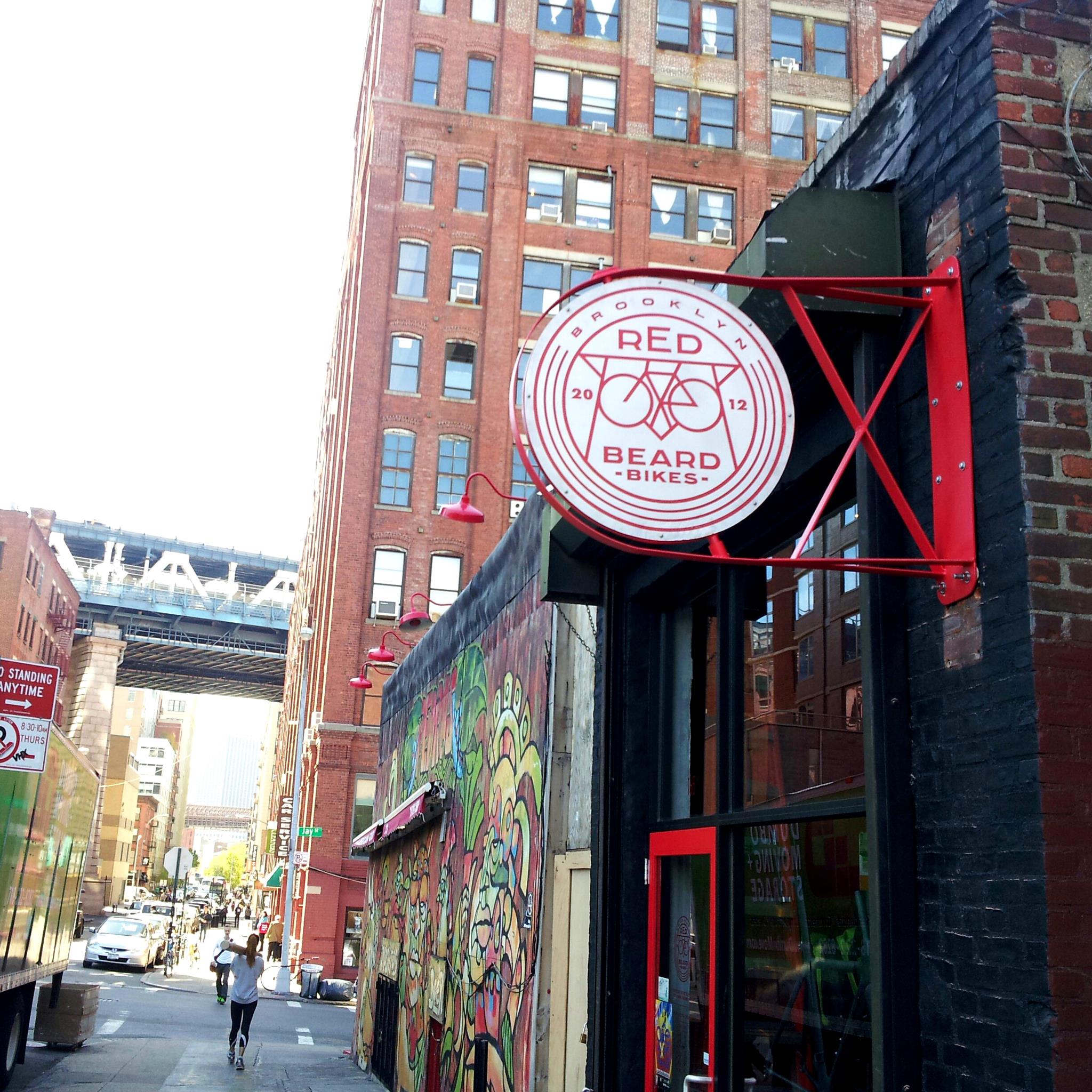 I try to make it as simple as possible—distill the jargon and industry chatter"
The Aussies leave, and Herschel explains his approach:
"Oftentimes, folks come in not really knowing the terms or the exact details of what's going to best help them or solve whatever issue they've run into. So I try to listen and find out what the issue is, rather than just pointing them to something to buy. I try to make it as simple as possible—distill the jargon and industry chatter."
If somebody comes in for their first bike and you help them find the right one for what they want to do—even if they don't really know yet what that is—and they come back after a couple months and they're like, This is fucking awesome—that's the best case scenario."
"I'm welcoming to everybody and I try make their experience very pleasant, but the goal is to get to the point where we're comfortable enough together to where I can make their experience a little less pleasant."
He grins. Herschel's sense of humor is drier than the rusty chain on your childhood Schwinn with the banana seat. You know you're friends with Herschel when he starts giving you a hard time. He's like Ilya in this way.
Meanwhile, in the back, Wilson quietly toils away on a bike that, from the looks of it, has seen far better days. Wilson is an enthusiastic expert in bringing dead bikes back to life. "It takes time and care. You're not just screwing on a part here and a part there." This bike in particular was salvaged from the garbage by Graydon — another member of Redbeard's racing team and the art director at Anti/Anti, the graphic design firm that handles the shop's branding—and it's slated to become a super commuter of sorts. "It feels like I'm creating something, rather than slapping a bike together." Slow winter days like this one are perfect for digging deep on a project and coming up with creative solutions, like the custom bash-guard Wilson fashioned for Graydon's bike by filing down the teeth on the outermost ring of a triple chainring.
Throughout the day, Ilya and Kasia buzz around the shop and the neighborhood, regaling curious customers by folding and unfolding Bromptons, checking on new builds and old repairs, running down the snowy street to grab coffees for Wilson and Herschel (and themselves), or chatting with longtime customers who just stopped in to say hello, warm up, and pass the time. As the winter sun settles down and the crew prepares to close the shop, Kasia talks bikes with a couple while Ilya shows their 5-year old son how to play foosball.
"First you learn how to dribble."
Ilya shows him.
"Then you learn how to shoot."
He's mesmerized. So is the kid.
The kid moves from the head of the table to the side, opposite Ilya, and grabs the rods, playing goalie. He's smiling sheepishly. Drops his hat on the ground. He's on his tiptoes to see onto the table, find the ball.
The Monkees' "I'm a Believer" is on in the background. They start to play. They're silent but for the dense pock of the ball against the walls of the table and Ilya's occasional pointers.
"That's a push… Nice fake-out."
Dad comes over. "Hey, Matt. Are you learning?"
Ilya: "Teaching him the basics. First step: see over the table."
They play a little more, and then it's time for everyone to go. "Good shot. Come back anytime." Matt's little sister is slowly riding a pink Liv Adore kids bike toward a line of nice bikes, a slo-mo demolition driver. Dad scoops her up before impact.
"When I'm 4, I want this one."
They leave, and Wilson lowers the gate. Ilya keeps playing.
–
Sam
Slaton
is a professional bike advocate, amateur urbanist, and writer based in Bentonville, Arkansas.